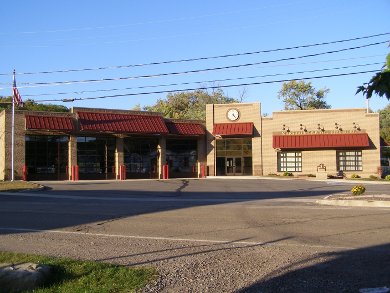 The Marshall Twp. Volunteer Fire Department would like to thank all the residents and businesses for their support over the years. With new people moving to the area all the time, some residents may not realize that their fire protection is provided by an ALL VOLUNTEER fire department.
With the population of Marshall and the number of fire calls growing each year, our number of volunteer firefighters is ALARMINGLY LOW. Operating an all volunteer fire department involves hundreds of essential tasks. It requires people with different skills to complete those tasks. Could that include you? If so, please contact me. All training is free for our members.
Also If you know anyone looking to attend CCAC in the fall they could be a awarded a full scholarship by simply joining their local Volunteer Fire Department. For more information visit www.ccac.edu.
2012 was a challenging year for us. We changed leadership mid-year when our president moved from the area, then only a few months later we found ourselves unexpectedly replacing our main fire truck, which comes with a price tag of over $400,000. With all this going on, our membership was at an ALL time low and because of the economy our donations were also down. I am proud to say that we as a fire department worked through these trying times and are waiting for the arrival of a 11 year old fire truck and we also had a slight increase in our membership in the 4th quarter of 2012. We have a long away to go in 2013 and could really use your support.
I would like to thank you in advance for your support, I look forward to hearing from you.
Sincerely,
Jason Bragunier
President
Mission Statement
The Marshall Volunteer Fire Department will strive to serve the community of Marshall Township by providing fire, rescue, and special services using funds provided by the community in an efficient manner.